Fishing Trips in Øresund ⛴
(Mondays and Wednesdays, 5 pm – 7:30 pm)
Have you ever caught a fish? Now's your chance!
Den Blå Planet, National Aquarium Denmark sets sail on fishing trips all summer long, and you can come along. The ship Øby sails at a slow pace, allowing all ages to participate. Our skilled storytellers are there to assist if the fishing rods give you trouble and they will share stories about everything that ends up on the hook, from seaweed and rubber boots to large cod and delicious mackerel. If you get a catch, you can take it home to impress your family or dinner guests.
There will also be an opportunity to dissect the fish on the boat, then we can all learn what cods eat and what their hearts look like.
We provide the boat, fishing rods, fishing permits and delicious sandwiches.
The fishing trip is not included in the regular ticket price. Read more about the trip and find your ticket here.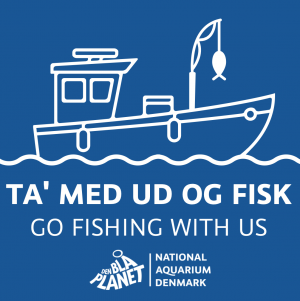 New: Food Truck and Hansens Ice Cream 🍦
Our lovely outdoor area has become an even bigger attraction – now you can relax in a deck chair with a freshly made sandwich from our Food Truck, followed by our popular Blue Planet Waffle with blue "guf" from Hansens Ice Cream. You can find the Food Truck by the Water Playground, while the ice cream shop is located near the regular playground. Enjoy. 😋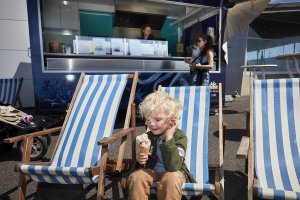 Catch a Round Goby 🎣
(All days from 11 am – 9 pm)
Would you like to catch food for the hammerhead shark and do something good for the Danish nature at the same time? Then come out to the Floating Bridge and catch a Round Goby. The Round Goby is an invasive species, as it is experiencing massive growth and therefore has a negative impact on our native species such as plaice, eel, and trout.
From 6:30 pm, you can exchange your catch for a soda or beer at Café Plankton.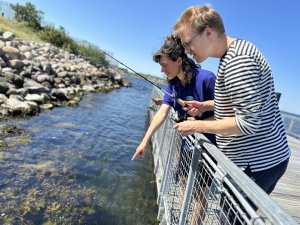 Guided Tour – Behind the Scenes 🪸
(All days at 5 pm and 8 pm)
Join us for a behind-the-scenes experience on our popular guided tour. Every day during the summer period at 5 pm and 8 pm, you can , explore the aquariums backstage and see the size of the Ocean Tank from above together with one of our skilled storytellers. Den Blå Planet, National Aquarium Denmark is Northern Europe's most modern and spectacular aquarium, hiding a sea of life – even behind the scenes.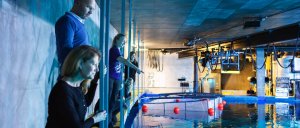 Kahoot! Quiz 🙌
(Every evening at 6 pm)
Are you the competitive type? Then take a seat in front of the Ocean Tank, where we will hold an exciting quiz about all our fascinating animals. You can win cool prizes.
Half Price from 7 pm – 9 pm 🎟️
Yes, that's right, half price! If you purchase your ticket online for our 7 pm time slot, it will only cost 97 DKK. That's half the regular adult price. So, grab your date, grandmother, or teenager and spend a cozy evening in beautiful surroundings. You can find your ticket here.
❗️ The offer is only valid for tickets purchased online, and the price of 97 DKK is a flat rate that applies to both children and adults.
Furthermore, there are, as always, plenty of other activities going on: animal feedings and training, children's theatre, touch pools, crab fishing, face painting (additional cost), the secrets of the jungle trail, and much more.
Download our app and check today's program.
We look forward to seeing you! 🌎