National Aquarium Denmark's new residents
Now you can visit our cute sea otter from Alaska at The National Aquarium Denmark's where we have built new facilities, which are specially adapted to their antics.
Meet the playful sea otters 
Mojoe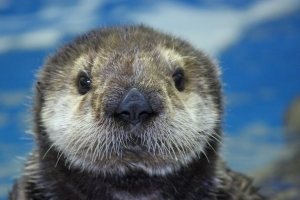 Gender: Male
Weight: 28 kg.
Rescued: 23rd June 2010
Struck by a boat
Mojoe is the older of the two sea otters at National Aquarium Denmark. He was found alone in Homer, Alaska, when he was four months old.
Mojoe had a broken jaw and several cuts, suggesting that he had been hit by a boat. The staff at the Alaska SeaLife Center worked very hard to get him healthy and within months he had made a full recovery.
Characteristics
Mojoe is a beautiful sea otter, and is easy to recognize because he is bigger than the female Agnes. Moreover, his face is lighter in colour – indeed it may even look like he has a white beard like Santa.
Agnes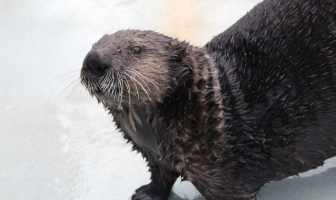 Gender: Female
Weight: 18 kg.
Rescued: April 14, 2013
Agnes was just a day old when she was found alone at Tutka Bay in Homer, Alaska. She weighed just 1.5 kg. As Agnes was so young the zookeepers had to act as her mother-sea otter. In the beginning, the keepers would bottle feed her and groom her after a swim as she was too young to do it herself. A month later she was ready to eat small clam treats. Today she eats lots, mussels and squid, etc..
Agnes is very interested in people and has a curious and courageous personality. She is the first mover and does not hesitate to check out new scenarios.
Characteristics
Unlike Mojoe, Agnes has a dark face, which will lighten as she gets older. Another of Agnes' specialties is that she has mastered the art of doing backward somersaults in the water. She is also vocal.
Dixon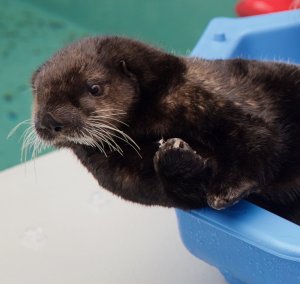 Gender: Male
Weight: 17 kg.
Rescued: August 9th, 2018
Dixon was rescued at just a few weeks old. He was so very sick and weighed only 3.85kg when he was brought to the Alaska Sea Life Center. Despite being dehydrated and having several infections, Dixon managed to make a full recovery. After 6 months of round the clock treatment and care, he was a healthy and happy sea otter.
Dixon has settled in nicely to our sea otter enclosure, and enjoys playing with the other three. He is very social with the keepers, and will often shriek excitedly at the sight of them. Especially when they come with treats!
Characteristics
The two new otters are still young and haven't developed the same kind of defining features as the two older ones. However, Dixon is easy to recognize as he is the most vocal of the bunch.
Riggs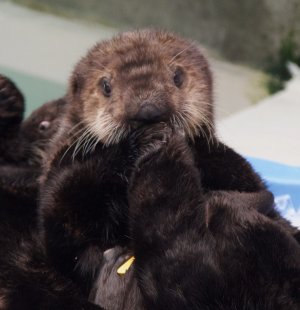 Gender: Male
Weight: 16 kg.
Rescued: November, 2018
Riggs was found when he was less than a month old, and abandoned by his mother. He had managed to crawl out of the ocean and unto a bike path, where he was found in the grass by some passerbys. The good samaritans called the Alaskan Sea Life Center, who were able to take him in and nurse him back to health.
Riggs is now a part of Den Blå Planets sea otter group, and has already entertained all our guests with his playful and curious character.
Characteristics
Just like Dixon, Riggs is still young and has the characteristic brown fluffy fur of a sea otter that age. However, it is easy to tell them apart from Agnes and Mojoe, as they are both smaller and darker in color.
Did you know
Sea otters have the thickest fur of all mammals
A sea otter's coat has up to 155,000 hairs per. square centimeters compared to a human head which has about 100,000 hairs in total. Sea otters do not have blubber like other marine mammals. Their only insulation against the cold water is the air between the hairs in their coat.
It is vital for sea otters that their fur is clean
Sea otters spend four to six hours a day grooming their hair and removing food debris, dirt or oil with their paws and claws. If their coat is not completely clean, it loses the water-repellent properties that keep the sea otters body warm and dry.
The mother wraps seaweed around her young while she is out finding food
Sea otter mothers will often wrap their babies in kelp to prevent them from drifting away, while they dive to the bottom. Sea otters gather their food – for example sea urchins, crabs and shellfish – on the seabed. They live along the coast where the water is rarely deeper than 30 meters.