We put together an offer, so you get the most value possible from your partnership with Den Blå Planet – with both activation and engagement. From ticket packs, logos, and networking days to concrete tools for a greener future. The common narrative is key. We provide, amongst other things, a possibility for a green profile video, as well as visibility in the exhibition, on the website, and on your own channels.
Exposure with Den Blå Planet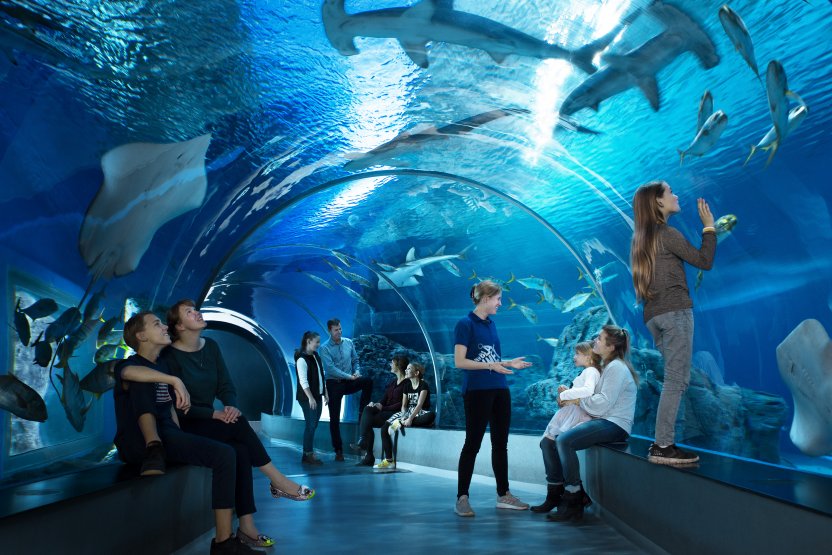 Den Blå Planet, National Aquarium Denmark is one of Denmark's top attractions, with more than 500.000 guests annually. Our stories are shared with our highly visited social media and network within the press.
We offer visibility in the exhibition and on our digital platforms, for example, in the form of our sponsor board, links, and green videos. Amongst these, the strong story of cooperation and involvement becomes clear. Profile partners receive the exclusive opportunity of exposure within research, installations, and key issues.
Furthermore, all supporters, sponsors, and partners have the opportunity to make their collaboration with Den Blå Planet visible on their own platforms, e-mail signatures, and much more.
Treat Your Employees or Clients
Most levels contain one or more opportunities to actively treat your employees or clients. We offer tickets, annual cards, exciting tours, a conference room with a view of the otters, and even a fantastic dinner in front of the coral reef.
Read more: Become a partner of Den Blå Planet
Shall we arrange a family day for your staff or a New Year's party for your favorite clients? With a flexible approach, we provide the opportunity to create an individual activation package that fits your economy, and your needs.
A Welcoming Collaboration
Whether you are a supporter, ambassador, partner, or profile partner of Den Blå Planet, you become a part of our engaging community and network of local and national businesses and partners.
A list of activities strengthens the opportunity for networking between our sponsors and partners. At least once a year we invite you to our Planet Day; a day that focuses on sustainability, networks, and inspiration. We also provide VIP invitations to the opening of special exhibitions, new installations, and other relevant events. We also hope you will feel free to use the aquarium as much as possible.
The foundation of sustainability
None of us are necessarily the world champion in sustainability, but with our sponsorship concept, we would like "a planet in balance" to be the foundation for our relations and sponsor activation.
At each level, you will find a long row of possibilities for inspiration and tool kits to inspire change.
We are developing our initiatives and products together with skilled, external consultants.
Courses in Sustainability
Hospitality – Meetings and Dinner
Involvement in key issues and animal exhibits
---
Contact